Buttons and aiglets for medieval and Viking re-enactment of pewter and bronze
Here you can buy detailed replicas of Viking buttons and medieval aglets.
In our medieval shop, you will find detailed replicas of buttons from the Middle Ages and the Viking Age. Our medieval buttons are made of high-quality bronze or brass as well as from pewter. Typical of medieval buttons were often flower motifs and rose petals, as well as buttons in the shape of acorns or spheres.
In addition to bronze buttons and pewter buttons, you can also buy medieval buttons made of zinc casting and brass aglets, which were used especially in the late Middle Ages.
Retailers for LARP and medieval or Viking re-enactment are welcome to register for our medieval wholesale.
Interesting facts about medieval buttons.
Medieval Buttons at Pera Peris - House of History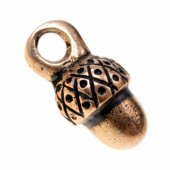 In our medieval mail order shop, you can buy replicas of authentic medieval buttons, which were made according to
historical finds
from the Viking Age and the late Middle Ages.
The Viking and medieval buttons in our range are made either from high-quality
bronze casting
or from
pewter
. We offer authentic medieval buttons with
flower motifs
and rose petals as well as medieval buttons in the shape of
acorns
and typical
ball-shaped
buttons as they were equally common among the Vikings and in the late Middle Ages.
In addition to medieval buttons made of bronze and classic pewter buttons, you can also buy
historical buttons
made of
zinc alloy
.
You will also find inexpensive
aglets
made of thin sheet brass, which were used in the late Middle Ages to connect the individual garment parts.
Buttons throughout history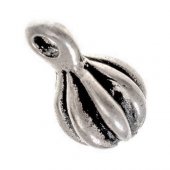 Buttons have probably been known since the Stone Age and were not only made in the Middle Ages, but already in early human times from bone, wood, horn or shells.
But since the Bronze Age at the latest, buttons have also been made of metal.
The oldest-known buttons date back to the pre-Christian
Iron Age
and were found during an excavation in a Danish bog.
However, it took until the 14th century for the buttonhole to be developed because in the early and high
Middle Ages
buttons were still fastened with a loop. A loop or eyelet then sat on the opposite side. In this way, there was always an open gap between the two sides of the garment.
Buttons were not only used in the Middle Ages, but already in antiquity, but they were largely forgotten during the turmoil of the
Migration Period
, so that in the early Middle Ages cords, brooches, hooks and eyelets were used instead of buttons.
From England and Denmark, for example,
spiral-shaped garment hooks
are known from the Migration Period and the early Middle Ages, which were used instead of buttons to fasten sleeves.
Worth knowing about Viking buttons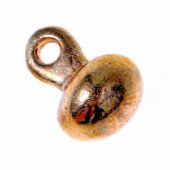 Buttons were also used by the Vikings since the early Middle Ages. For example, there are several finds of Viking buttons made of bronze from the excavations in
Birka
/ Sweden and
Chernigov
/ Ukraine.
In the Viking settlement of Birka alone, twenty spherical Viking buttons of identical shape were recovered in grave BJ 1074, which presumably served as a fastener
for a caftan
.
A whole row of such ball-shped buttons buttons was also found in Birka grave Bj 752B.
A particularly interesting find is an enamelled Viking button from the black earth of
Björkö
, which consisted of a 2.4 cm wide plate with a filling of red and yellow enamel and looks very much like today's modern buttons.
But buttons are also known from other sites in the Viking territories, and they were particularly characteristic of the fashion of the
Eastern Vikings
and the so-called Rus.
Knowledge about medieval buttons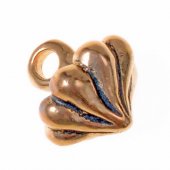 Interestingly, almost identical ball buttons to those used by the Vikings were
still in use
well into the late Middle Ages.
However, medieval buttons could just as often be
pyramidal
in design instead of spherical.
Although buttons were known early on, they appear relatively late in Europe and are
rather rare
before the mid-13th century.
Medieval buttons were usually made of bronze, brass or pewter until the beginning of the 14th century, when fabric-covered buttons came into fashion.
Medieval buttons were often made of wood or bone and glass instead of metal. For people of
high rank
in the Middle Ages, buttons could even be made of gold, silver, coral, amber and even precious stones.
In addition to buttons, the medieval button maker usually also made so-called
paternosters
for the hour of prayer. In contrast to the buttons we are familiar with today, which have two or four holes, buttons in the Middle Ages usually had a metal eyelet on the back. The buttons we know today was hardly known before the 16th century.
Renaissance buttons
Medieval button In the late Middle Ages and the Renaissance, buttons were also increasingly used for
purely decorative
purposes and sewn onto various parts of clothing and even hats.
Yes, even
small bells
were attached to the hems of their garments by some fashionable fops in the late Middle Ages.
Interestingly, during the
Tudor period
in England, small garment hooks came into fashion again, which in their shape were very reminiscent of the garment hooks common in the early Middle Ages almost 1000 years earlier.
But also very simple fasteners in the form of
hook-and-eyes
like today's modern bodice hooks were very common.
In the Tudor period, however, buttons in the shape of
flower blossoms
or in the shape of
roses
were also popular, the so-called
Tudor rose
, as well as buttons shaped like small acorns.
Not to be forgotten are so-called
toggles
, a kind of elongated special form of the button and probably the oldest type of button at all.
In the Middle Ages, the toggle could have eyelets or holes and was usually closed with an opposite loop. Such toggles are particularly useful as closures for sacks and bags instead of buttons.
Medieval aglets
From the end of the High Middle Ages through the
Late Middle Ages
to the beginning of the Renaissance, however, garments were often laced with ribbons instead of buttons.
The ends of these ribbons were usually fitted with a tip made of
tin or brass
, the so-called
aglet
which facilitated threading through the numerous eyelets of the medieval garment.
The aglet became widespread from the 12th century onwards as medieval fashion became increasingly
body-hugging
. In the late Middle Ages, garments became even tighter from 1350 onwards.
This led to downright body-modelling garments that required many aglets, which certainly contributed significantly to the spread of buttons in the Middle Ages.
In the Middle Ages, the actual ribbons were mostly made of fabric in the so-called
finger loop technique
, but there were also ribbons made of leather. The shape of the medieval aglets could be very different. There were simple, straight aglets and crowned forms, aglets with ornate ends and those that had patterns embossed all around.
Medieval buttons and other fasteners in our offer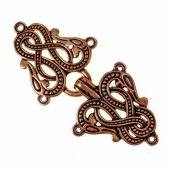 We would be pleased if you liked this little excursion about the buttons of the Viking Age and the Middle Ages and if you would like to buy some suitable
medieval buttons
for your historical presentation in our online shop.
In other categories of our shop, in addition to buttons and aglets, you will also find other types of medieval dress fasteners such as Viking
caftan clasps
or
cloak clasps
of the High Middle Ages.
For example, you can buy a nice selection of historical
dress fasteners
made in the style of the Middle Ages or the Viking Age in the robe hooks category.
In addition, we offer you many replicas of
leg wrap hooks
hooks that were crafted according to historical models from the Viking Age.
You can buy also a large selection of historical cloak clasps in the category
"Brooches and Clasps"
. There you will find, for example, detailed replicas of
Celtic garment clasps
and replicas of
Roman fibulas
as well as many different early medieval
bow brooches
or
authentic reproductions
of
annular brooches
from the high and late Middle Ages.
Hand-forged
ring brooches
based on models from the
Viking Age
with a rustic look are also available in various sizes and designs. In any case, the many different
Viking brooches
in our range demand special attention.
You are spoilt for choice here:
In addition to the typical Viking
penannular brooches
, you can also buy a large selection of
disc brooches
and find detailed
trefoil brooches
as well as replicas of authentic
tortoise brooches
and a lot of other
Viking brooches
.
Whatever you choose, you can see that there were many other ways of
fastening your garments
in the Middle Ages besides using buttons, hooks and eyes.
Your medieval shop for authentic re-enactment
So, you see, whether it's for an upcoming LARP, a Viking camp or a medieval festival, in the medieval shop of Pera Peris - Haus der Historie you're sure to find
something suitable
for a historically accurate outfit.
When you order from the Pera Peris medieval shop, you benefit from
many advantages
, such as
    25 years of experience
    Free shipping for orders over 50 €
    delivery usually on the next working day
    Several payment methods, such as Paypal, credit card or bank transfer
    14-day right of withdrawal
    Easy returns
Subscribe to our
newsletter
, and you will always be informed in time when we have great new products for you. If you have any
questions or requests
, please feel free to contact our customer service at any time.
For example, via
contact
or via the convenient
call-back service
. We look forward to
your enquiries
in any case.
If you want to rely on quality and authenticity for your
medieval equipment
, then order your reenactment supplies at peraperis.com.
Pera Peris - House of History - your medieval shop.
Bring a piece of history into your home!