Medieval beads and authentic Viking bead replicas of bone, bronze or zinc.
Here you can buy historical beads in the style of the Middle Ages and the Viking Age.
If you want to make an authentic necklace for your Viking re-enactment or medieval garb, you will find a large selection of medieval beads and Viking beard beads in this category. Our beads are either made of bone, bronze or zamac. You can also buy real silver plated beads. Our medieval beads are simply ideal for the individual creation of a Viking chain or a medieval necklace. A not only attractive but also authentic addition for LARP and medieval re-enactment or simply a stylish accessory for everyday life.
Retailers for LARP and medieval or Viking re-enactment are welcome to register for our medieval wholesale.
Hisorical beads from antiquity, Viking Age and Middle Ages
Medieval beads in the assortment of Pera Peris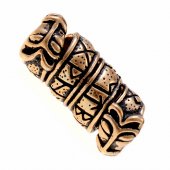 In the medieval store of Pera Peris you can buy a wide range of historical beads. Beside high-quality replicas of
Viking beads
and beard beads made of bronze we also offer inexpensive hair beads made of zamak with a large hole diameter, which are also well suited to be used as Viking hair beads.
You can also find cheap beads made of bone in different designs, which are a nice addition to medieval bead necklaces or
Viking necklaces
. Either in the form of balls, as so-called pipes or as discs. All bone beads from our assortment are handmade in laborious detail work and are available in natural or brown or black color.
The medieval beads that you can buy in our medieval store are either made as detailed replicas as they were common over a
thousand years ago
, or inspired by models from the Viking Age and the Middle Ages and creatively redesigned.
For example, you can buy hair beads with runes, which were designed according to the
older Futhark
, the Germanic rune alphabet. You can buy these rune beads either as a set of 24 rune beads or as a single rune bead with a character of your choice.
For a real medieval re-enactor, our
authentic Viking beads
made of bronze or silver-plated are well suited, which are essential for an authentic representation.
In our store you can buy a wide range of Viking Pearls, which were made after historical models from different excavations of the Viking Age.
The beads of the Stone Age
The use of beads dates already back to the Stone Age, although
Stone Age beads
were still mainly made of simple natural materials such as pierced bones. But there are also already figurative representations made of amber in the form of axes.
In addition, there were also
beads made of amber
, which is very common in Denmark and southern Sweden and along the Baltic coast. These amber beads had different shapes, often in the form of discs, tubes or prisms, whereby axe or hammer-shaped beads make up a large part of the finds, which leads to the theory that these beads possibly had a religious meaning relating to a god of thunder similar to Thor.
The beads of the Bronze Age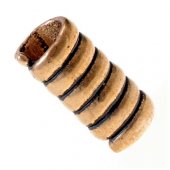 During the Bronze Age, the finds of amber beads in the north decrease extremely because amber had become a precious exchange item with the ancient cultures in
Southern Europe
. Besides small barrel-shaped or disc-shaped beads and beads made of bronze spiral tubes were used, which were common until the Latène Era.
Very seldom in the Bronze Age find material are also
glass beads
of oriental origin, which were mostly disc-shaped and mostly blue or greenish but also brownish in color or even multicolored.
The beads of the Iron Age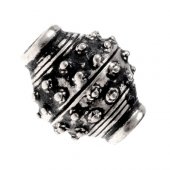 The Germanic tribes of the pre-Roman Iron Age also wore almost no beads, only occasionally there are blue glass beads from Celtic manufacture and small,
spiral-shaped bronze tubes
, both of which, however, occur only very rarely in the find material.
Only in the post-Christian Iron Age, imports from the Roman provinces brought more and more
glass and clay beads
to the Germanic regions, but without being widely distributed. Beads made of filigree decorated gold or silver sheet, however, were highly valued by the Germanic tribes.
Bornholm alone is known for about 40 metal beads, mostly
double conical and spherical
, which were worn as necklaces. Cylindrical or square beads also occurred, but were rarer.
The beads of the Migration Period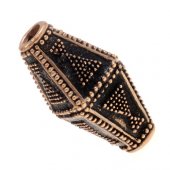 In the late Roman era, the import of glass and enamel pearls from the provincial Roman territories flourished, with bead production in the
Eastern Empire
continuing during the Migration Period even after the fall of the Western Roman Empire. In burial sites, large bead finds of this period can be found, often comprising several hundred beads.
Amber also reappears as a material for beads in late Roman times, although these were usually
flat-spherical or disc-shaped
. Here the northeastern European amber was used more widely. As also later in the Viking Age, very large spherical amber pearls are often found in the finds of the Migration Period.
The beads of the Viking Age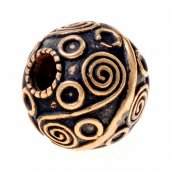 Due to the burial customs of the
Christian peoples
without goods, hardly any medieval beads have survived from Franconia and Anglo-Saxony.
Since the Vikings in the early Middle Ages still adhered to pagan beliefs to a large extent,
rich bead treasures
can be found again and again in Scandinavia as grave goods in graves.
Among the beads of the Vikings, glass beads are the most common.
These Viking beads are
mainly found in women's burials
, whereas they are very rarely found in men's graves and if so, then not as necklaces, but for example as a closure for a bag.
In the later Viking Age, filigree beads, which were made of
silver or even gold
and could be spherical, double conical or tubular, are increasingly found.
These precious Viking beads have their origin in the
goldsmith art of the Slavs
, who used the simplest means to create filigree jewellery with so-called granulation decoration, whereby fine silver wires, bead strings and tiny balls were used for granulation on these beads.
We would be pleased if you liked this little treatise on medieval and Viking beads and if you find in our online store perhaps one or the other historical bead you would like to buy for your historical garb or everyday life.