Leather potion holder and potion vial bags for LARP, Cosplay and Steampunk.
Here you can buy potion bags and bottle holders made of leather with glass potion vials.
In the medieval store of Pera Peris - House of History you will find a nice selection of practical leather potion bags and potion holders for your LARP or Cosplay. They are either equipped with three or five potion bottles or with three different sized elixir bottles and are ideal for healing potions or magic incense mixtures. You can also buy small and large glass bottles in shapely leather holders, which you can use as water bottles in LARP or at a medieval market and are perfect for a refreshing sip in between.
Retailers for LARP and medieval or Viking re-enactment are welcome to register for our
medieval wholesale
.
Bottle holders and potion bags for LARP and Cosplay
Potion holders for magicians and those who want to become one.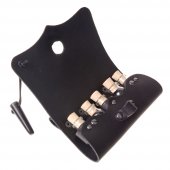 In the medieval shop of Pera Peris you can buy a nice assortment of
high-quality bottle holders
and potion bags for your LARP and you will also find the matching glass potion bottles in different sizes.
After all, what helps the best healing potion on a LARP in the heat of battle if it is hidden somewhere in the depth of a bag? Magic potions in particular must always be
readily available
as a plaything in LARP and are therefore best kept in a practical leather potion bag directly on the belt.
Potion bags are certainly one of the most frequently used utensils in LARP and therefore simply indispensable for the character of a
sorcerer or warrior
. Also, for every healer, magician or student at a magic school our potion holders are of course very useful and a useful accessory for the study of magic.
But not only magic potions find their place in such a potion bag, also a fragrant
incense mixture
, a strengthening herbal schnapps or even an intoxicating liqueur is always in good hands here...
The potion bags in our offer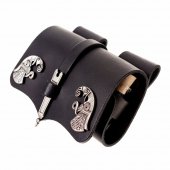 The drink bags and drink holders you can buy in our medieval shop are all made in our in-house production according to our
own designs
. They are not only characterized by high-quality workmanship and solid leather, but also have a particularly beautiful design and are a real eye-catcher on every LARP.
In our assortment we offer you on the one hand potion bags, which are available either with
three or five potion bottles
of 10 ml content, which is probably the most frequently used potion holder in LARP.
On the other hand we also have potion bags in our assortment, which are available with
three different sized potion bottles
of 10, 20 and 30 ml and are suitable for different dosages or mixtures of magic potions.
As a closure for our potion bags you can choose a classic
horn stopper
made of real water buffalo horn or a plug closure in the shape of a Viking dragon head, which is attached to the potion bag with a leather strap.
Another potion holder is closed with a large hatchet pocket button and another model has a strap that ends in an elegant medieval strap end.
In dependence of the model our potion bottle pouches can be purchased either in a classic plain style or with a
decorative embossing
in the style of the Viking Age and the Middle Ages or with striking metal mounts according to medieval models.
LARP potion bottle holder without cover flap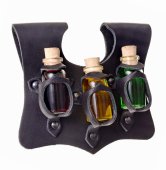 As a supplement to the usual drink bags with lid flaps, we also offer you a completely different model of a drink holder, where the drink bottles are
clearly visible
in a small holder directly on the leather.
Not only that you can reach your magic potion very quickly in this way, especially potions in different colors are very effective in this potion holder.
The same applies to our potion holder for the arm. Here, too, the potion bottle is in a
small holder
which is placed on the leather, so that the bottle is clearly visible. It is also securely locked with a small leather latch so that it cannot simply slip out of the holder.
Not only for a character in LARP, but also for the presentation of steampunk and cosplay, these bottle holders with
attached bottles
are ideal, but no matter what kind of drink bag you choose, they all have in common that the glass bottles in them remain well protected and at the same time are quickly at hand.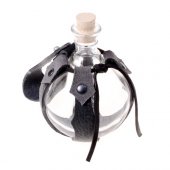 In addition to these classic belt potion cases and bottle holders, you can also buy glass
elixir bottles
with a capacity of 50 or 100 ml from us. They are enclosed in a decorative leather corset with lacing and can be attached to a belt holder or anywhere else on your equipment with a ring.
If, on the other hand, you want a little more volume, we recommend our large
water bottles
.
These come in a shapely leather holster for the belt and with 200 and 500 ml contents they are not only suitable as a canteen for a refreshing sip on a LARP, but also serve equally well on any medieval market.
It goes without saying that such a canteen must not only contain water, but also high-proof water...
Our drinking and potion bottles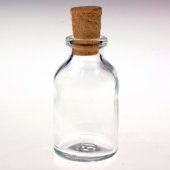 The glass bottles for our LARP field bottles are made of solid
pressed glass
. They are remarkably stable and can take a good puff.
Also the bottles for our potion bags and drink holders are not made of fragile, thin pressed glass of Far Eastern origin, as you can unfortunately often see in LARP, but are made of solid,
blown glass
, which is remarkably stable and has quite thick walls, which is why our drink bottles can withstand a strong blow or even a nasty fall.
Due to the traditional manufacturing process, our drinking bottles have a slightly
irregularly shaped surface
, which gives them a natural, medieval charm.  As these glass bottles are of medical standard, they can also be used for food without hesitation.
Each drinking bottle comes with a small
natural cork
, which beautifully underlines the medieval appearance and ensures that the LARP drinking bottle remains reliably closed.
If a cork should get lost, it can be easily purchased here. Of course, you can also buy our drinking bottles here.
Besides smaller potion bottles with 10 and 20 ml contents, which are probably the
most common
potion bottles in LARP and Cosplay, you can also buy 30 ml magic potion bottles, elixir bottles with 50 ml volume as well as large elixir bottles with 100 ml contents.
No matter which potion holder you choose, we are sure you will find the
right potion bag
for your presentation, no matter if it is for LARP, Cosplay or Steampunk, we would be happy if one of our potion holders found your favour.