Take advantage of our intuitive and user-friendly shop navigation
What's the best way to order Pera Peris?

For technical processing reasons, only online
orders are
possible
and not by phone or letter. But anyway ordering is very comfortable. You can choose from 5 different ways.
1. Classic
- Just click from category to subcategory and use our "Quick Order" feature to put the item
in the desired variations
in your shopping cart instantly and without detouring over the product description.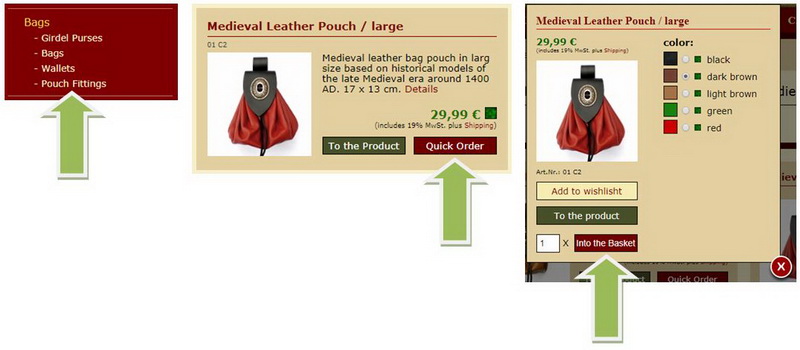 2. Comfortable
- Get a quick overview of the complete range of all available products in the categorie "View All". Again, here you can shop easily by using the "Quick Order"button.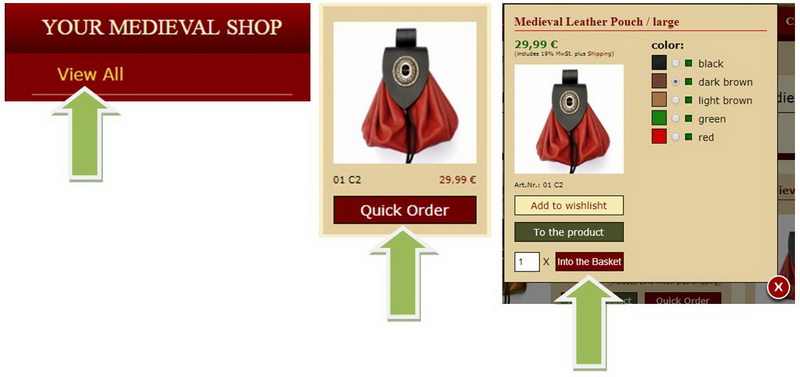 3. Search
- With the double search function you have the possibility to search for products either directly via the article number or alternatively via the article name.

4. Quick
- With the
Fast Purchase Function
in the shopping cart, articles can be added in the desired quantaty directly by using the product ID.
- The Product-ID can be found  in the shopping cart, as well as in the order confirmation and the order history.

5. Smart
- Articles for regularly recurring orders can be placed on the notepad and put from there with just one click directly into the shopping cart.


6. In Details
- Furthermore, its possibility to put the desired product in the shopping cart via category and item description page.






Benefit from the low prices and high quality of our Medieval products and become a satisfied customer of Pera Peris - House of History.

In our Medieval online-shop you will receive high-quality, historic products from the following areas:

- Celtic, Viking and Medieval jewelry replicas
- Iron and bronze brooches and fibulas
- Historic buckles, decorative mounts and fittings
- Garment closures and dress fasteners
- Historical belt and bodice replicas
- Medieval and Viking knives
- Re-enactment camp requirements
- Viking seaxes and spears
- Medieval archery equipment and arrows
- Wooden bowls, plates and spoons
- Medieval frogs and LARP sword holders
- Germanic drinking horns and signal horns
- Medieval purses and Viking leather pouches


---

Do you have still anymore questions?
Do not hesitate to contact us, we will gladly assist you with advice and assistance.

For general questions about sales and current shipments:
Sindy Klotzsche
Tel: 0049 (0) 3504 - 625 694
Email: info@pera-peris.de

For questions about wholesale, marketing and technical support:
Sebastian Herda
Tel: 0049 (0) 3504 - 625 695
Email: mail@pera-peris.de

For questions about purchasing and management:
Peer Carstens
Tel: 0049 (0) 3504 - 611 447
Email: peer@pera-peris.de

Do you not use an email program?
Simply use the contact form to send us an email.

Did not you reach us?
Just use our callback-service.

We will take care of your request as soon as possible.

---


Address

Pera Peris - House of History
Your retail and wholesale trade for the Middle Ages, Larp, Reenactment and Museum Replicas.
Inh. Peer Carstens
Reinhardtsgrimmaer Str
D -01744 Dippoldiswalde
Germany
(No on-site sales)

Ust.Id.Nr. DE 185 969 630

Fax: 0049 (0) 3504 - 625 85 14
Webshop: www.pera-peris.com