Welcome to the medieval shop of Pera Peris - Take a piece of history home!Your online shop for medival and Viking re-enactment!
Continue ...
In our Medieval Shop you can buy detailed museum replicas and authentic Viking jewellery as well as a large selection of medieval camp equipment and many more like medieval knives, leather bags and sword holders.

Historical belts and a large quantity of belt accessories as well as stylish brooches, dress fasteners and medieval buttons and accessories complete our extensive medieval range. Pera Peris - House of History.
Your Medieval Shop for best quality at short shipping!


Retailers for LARP or medieval re-enactment are welcome to register here for our medieval wholesale store.
Show less
Retailers for LARP or medieval re-enactment are welcome to register for our medieval wholesale store.
wholesale
in Pera Peri's medieval shop. We guarantee the best quality at good prices with short delivery times!
About the medieval shop of Pera Peris - The House of History
Here you can find the right medieval supplies for your historical outfit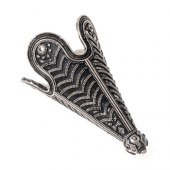 In our medieval shop you can buy the right accessories for your Viking or medieval representation for the next medieval market, Viking camp or LARP event.
Simply browse through our online shop, go through the individual categories, immerse yourself in the magical world of the Middle Ages and be inspired by our historical products.
Even if life in the Middle Ages wasn't really like what we see at a medieval market today, the study of history gives you an idea of what it might have felt like to have lived as a fierce Viking warrior or medieval princess, as a knight on horseback or as a dashing barmaid.
With the right medieval garb and authentic equipment, a visit to the next historical activity is twice as much fun, whether it's a medieval market, a Viking camp or a LARP convention.
All the more so when the medieval items are not just historical interpretations, but correct and authentic replicas for a true-to-detail re-enactment.
Just buy a little piece of history - so you are well-prepared for your appearance at the next museum festival with a historical article from the medieval shop of Pera Peris.
What exactly can you buy in the Pera Peris medieval online shop?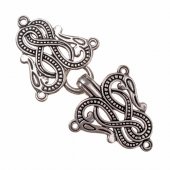 In addition to many reenactment articles from the Viking Age and the Middle Ages, you can buy a variety of authentic museum replicas and detailed
replicas from other eras
in our online shop, starting with replicas from the time of the Celts, Romans and Germanic tribes and extending to the Renaissance.
In particular, however, we offer you
a wide range
of articles from the Viking Age and, of course, the Middle Ages in the Pera Peris Medieval Shop.


Belts and belt accessories
If you want to buy authentic replicas of buckles, strap ends or belt fittings for your medieval or Viking reenactment, then take a look at the belt accessories category, where you will find high-quality bronze replicas as well as inexpensive products made of zinc casting.
Fine jewellery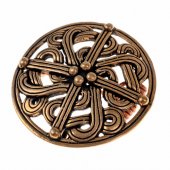 Detailed Viking or medieval jewellery, such as pendants, amulets, Viking beads and chains made of bronze and silver-plated, as well as historically accurate replicas of garment clasps such as brooches and brooches can be found in the Jewellery category.
You can also buy a very nice collection of medieval finger rings and earrings as well as historical bracelets and torques inspired by medieval models.
Robe hooks
If, on the other hand, you are looking for a nice selection of decorative buttons, cloak clasps, robe hooks or dress fastener for your robe, you will find them in the category equipment. You can also buy replicas of Viking leg-wrap hooks made of bronze or silver-plated.

Medieval knives
Do you already have a medieval or Viking knife? You're sure to find one in the knives' category. You will also find Iron Age knives forged by hand from a single piece.

Knife blades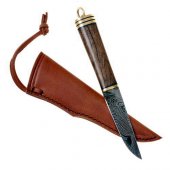 Even forged knife blades made of high quality carbon steel or real damascus steel and useful knife making accessories you can buy and build yourself an authentic medieval knife - also damascus blades for the Sax of the Vikings are in stock.
Knife-making accessories
You can also buy complete knife kits with medieval knife blades and handle material, including leather for the scabbard, which make it easy to make your own knife. We even offer authentic replicas of scabbard fittings and bronze lanyards in our medieval shop.
Leather goods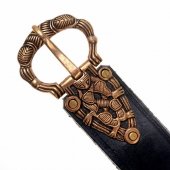 Where to put all the odds and ends you carry with you? A practical leather purse for your belt or a simple leather bag will complete the picture of your medieval equipment, which you can find in the category bags. Leather accessories such as stylish smartphone cases, leather wallets, tobacco bags and round leather cases complete our range.

Medieval belts
By the way, you will find the matching medieval belt or Viking belt in the category belts, made of high-quality cowhide and also available in extra-long versions with authentic reproductions of historical buckles and fittings.
Here you can also buy solid leather belts for everyday use and of course we also have a wide selection of beautiful bodices that are equally suitable for LARP, Steampunk and the Middle Ages.

Hand-forged items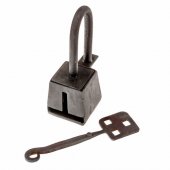 Forged camp equipment for the next LARP event, medieval festival or Viking camp, on the other hand, can be found under Hardware, where you can buy useful kitchen hooks and medieval cutlery, as well as iron roast forks and a wide selection of medieval hinges and Viking chest locks.
Lighting
In the category Light and Fire you will find various fire steels, made true to detail according to historical models, as well as the matching flint and tinder, and other articles for atmospheric lighting with candles or pine shavings for sleeping in your tent.

Horn ware
Finally,  you can also buy proper drinking horns in various sizes. You can also get matching drinking horn holders made of leather in various sizes or drinking horn stands made of iron. You will also find practical horn cups and powerful bugles for signalling.
Weapon holder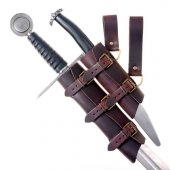 As a warrior or Amazon, you can't do without a weapon at your side. Do you already own a high-quality leather frog or weapon holder?
In addition to simple and elaborate sword holders made of leather, we also offer complete sword hangers and even rapier bandoliers for show swords and LARP padded weapons made of latex, which you can buy in our online shop in the sword holder category.
Needle and thread
And so, that things don't get boring at the next Viking camp, you can buy sewing needles and needle binding needles as well as weaving boards made of wood, horn and bone for the historically correct pastime in the Needle and Thread category, along with replica of medieval and Viking scissors or Viking scissors.
We even have authentic replicas of needle boxes of the Viking Age in our range.
Just browse through the category Everything at a Glance in our online shop - there you can get a quick overview of all the items available at Pera Peris, whether bags, belts, knives, jewellery, camp equipment or medieval accessories.
We are convinced that you will find the right product for your historical hobby in the medieval shop of Pera Peris - The House of History.
Pera Peris - Your medieval shop for authentic reenactment
The best thing to do in our online shop is to browse through the category "Everything at a glance". There you can get a quick overview of all the items available in our medieval shop or use the practical search function.
It doesn't matter whether you just like to visit a medieval market, are a confirmed Viking re-enactor or your heart beats for LARP and fantasy: At Pera Peris - House of History, you can buy a wide range of authentic replicas and high-quality medieval articles for many different ages.
We are sure that you will find the right product for your historical hobby in the medieval shop of Pera Peris - Haus der Historie.
Whether for the next LARP convention, a Viking camp or a medieval festival, you will find everything your heart desires for a historically accurate outfit.
Discover detailed reproductions of medieval items and stand out from the crowd with lovingly crafted details.
Find out about life in the Middle Ages in our blog and gain interesting and enlightening insights into the eras of the Vikings, Celts and the Middle Ages.
When ordering from Pera Peri's medieval shop, you will benefit from many advantages, such as
    25 years of experience
    Free shipping from 50 €
    delivery usually on the next working day
    Several payment methods, such as Paypal, credit card or bank transfer
    14-day right of withdrawal
    Easy returns
Subscribe to our newsletter and be the first to know about new products or great offers. If you have any questions or requests, our customer service will be happy to help you. Please contact us or use the call-back service. We look forward to your enquiries.
Set your medieval equipment on quality and authenticity and order your reenactment supplies at peraperis.com.
Pera Peris - House of History - your medieval shop.
Bring a piece of history into your home!