Here you can buy authentic Viking spring scissors and medieval scissors replicas.
Authentic replicas of Viking ironing scissors and medieval jointed scissors.
The medieval scissors that you can buy in our medieval mail-order shop are expertly handmade and stand out for their excellent sharpness. In addition to detailed replicas of Viking spring scissors, you will also find authentic scissors from the Middle Ages that have a joint and are suitable for use as herb scissors or sewing scissors and need not hide at any medieval market. For cutting fabrics, you can find small sewing scissors as well as large fabric scissors or tailor's scissors modelled on those from the Middle Ages. You can also buy here matching leather scissor cases with which you can attach your scissors directly to your belt or, as in the Viking Age, to a ribbon on a brooch. You are sure to find the right scissors for your Viking or medieval reenactment in our medieval shop.
Retailers for LARP and medieval or Viking re-enactment are welcome to register for our medieval wholesale.
Scissors in Antiquity, Viking Age and Middle Ages
At Pera Peris you can buy high quality medieval scissors!
In our medieval shop you can buy a wide selection of medieval scissors, forged in detail according to
historical models
from the Viking Age and the early to late Middle Ages.
The medieval scissors in our range are expertly hand-forged and of high quality workmanship and are characterized by a really
excellent sharpness
, so that the work is easy to do.
In addition to the typical, small
Viking spring scissors
, you can also buy in our Medieval Shop detailed replicas of scissors from the
Middle Ages
, which are equipped with a joint and were also already used in the Viking Age.
In addition to authentic ironing scissors, which were used to shorten the thread when sewing, you will also find
medieval herb scissors
, which were once used by monks in
monastery herb gardens
to cut their medicinal herbs.
For more complex sewing work, you can buy small
jointed scissors
, which look good in any
medieval camp
and will be a great help when working with needle and thread because they are sharp and easy to use.
In addition to small sewing scissors, you will also find large
fabric scissors
and medieval-style
tailor's scissors
for cutting fabrics, which you should be able to use to master any form of fabric processing.
So that the scissors are always at hand, you can also buy matching leather
scissor cases
in our medieval mail-order shop, with which you can carry your scissors
directly on your belt
.
In this way, the scissors are not only always within reach, they are also protected from rust, dirt or damage and you cannot injure yourself on the sharp edges of the scissors.
Especially in the Viking Age, small
spring scissors
were an indispensable part of women's garb and were often
attached to a brooch
with a ribbon, so that women never had to search for their scissors for a long time.
That is why you can also buy such small
leather sheaths
for ironing scissors from us, which we offer in various sizes. In addition to simple
leather scissor cases
, you will also find high-quality sheaths with
bronze fittings
based on historical models from the Viking Age, which are a real eye-catcher on your garb.
We are sure that you will find the right scissors for your medieval reenactment in our medieval shop.
About the historical development of the scissors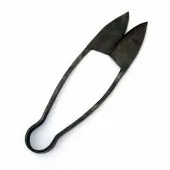 Scissors were already widely used by the ancient Romans and the Celts of the Latène period, but in fact scissors have been known since the Bronze Age, because they were of enormous importance for the
craftsmanship of fabrics
and bronze sheets early on.
With the end of the Bronze Age, of course, scissors were only made of iron because the material was so much better.
The first scissors, however, simply consisted of two knife blades joined together at the end. This type of scissors is called
end-jointed scissors
and had to be operated with both hands at the same time.
In later times, the scissors were made from one piece and fitted with a handle, which is why these scissors are called
spring scissors
.
The handle gives the scissors the necessary tension so that the scissors can be used with only one hand.
Scissors in medieval and Viking times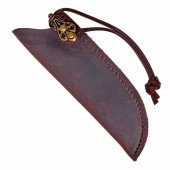 Spring scissors existed from antiquity through the Viking Age and the Middle Ages to modern times, and they were used in many different sizes and shapes.
There were tiny
sewing scissors
with which one could only cut a thread, scissors for hair care, handy sheep or cloth scissors, even monstrously large cloth scissors that could be up to a metre long - all these scissors were ironing scissors without any joint, only connected with an elastic bow.
The
spring scissors
have been in use for over 2000 years and their form has remained completely
unchanged to this day
. Of course, you can buy exactly such ironing scissors in our medieval online shop.
By the way: Contrary to the widespread prejudice, the Vikings attached great importance to a well-groomed appearance. Therefore, the scissors were an
integral part
of the costume of the women of the Viking Age and hung together with awl, ear spoon and tweezers from a brooch attached to the shoulders.
But even in the
late Middle Ages
, the scissors were seen as a female attribute and were often used symbolically in this context.
The joint scissors that are so widespread here today came into the light of day quite late and were actually in use only very sporadically before the 10th century. Nevertheless,
jointed scissors
can already be found in Viking archaeological finds, such as those from Birka and Novgorod.
In contrast to the ironing scissors, the
jointed shears
have two blades mounted around a
pivot point
, which makes it easier and more precise to work with. Also, in contrast to the ironing scissors, the articulated shears can be closed over the entire length of their cutting edge and do not stand open.
Maybe you enjoyed this little excursion about
medieval scissors
and you will find a suitable pair of scissors in our medieval mail order shop that you would like to buy to complement your authentic equipment.