Viking leather necklaces and braided cords in the style of the Middle Ages
Here you can buy Viking necklaces with a detailed pendant after historical models.
In the medieval shop of Pera Peris - House of History you can buy a wide range of fine Viking necklaces made of braided leather, which end in expressive animal head endings in the style of the Viking Age. Depending on your taste, you will find a large selection of pendants and amulets, which were made according to historical models from the Viking Age and the Middle Ages and harmonize stylistically with our Viking necklaces. You can even attach your own pendants to these Viking necklaces if you wish. This beautiful, historical jewellery is made of braided leather cords with metal parts made of high-quality bronze and in real silver-plated. Surely, you will find a nice Viking necklace that you would like to buy
for your historical representation of to wear in everyday life.
Retailers for LARP and medieval or Viking re-enactment are welcome to register for our medieval wholesale.
The use of necklaces by the Vikings
Viking necklaces on offer from Pera Peris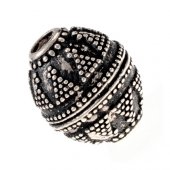 If you are interested in an authentic Viking necklace for a Viking re-enactment, then you will definitely find what you are looking for in our online shop.

At Pera Peris we offer you a large selection of Viking necklaces with authentic pendants and beads based on historical models from the time of the Vikings, both in high-quality bronze and in real silver-plated.

For an authentic appearance in the Viking reenactment, our Viking necklaces are a stylish accessory and equally expressive jewellery for everyday life.
The Bead Necklaces of the Migration Period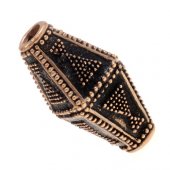 Necklaces were not only common among the Vikings. Even in the Late Roman period, necklaces made of glass and enamel were quite common in the north, imported from provincial Roman areas.

Even after the fall of the Western Roman Empire, the production of beads for necklaces continued in the Eastern Roman Empire. Therefore, artefacts of necklaces can often be found in burials from this period, which could consist of several hundred beads.

Amber was also frequently used as a material for necklaces in this period, whereby these amber beads were usually flat-spherical or had a disc-shaped form. As a rule, amber was used for these Roman necklaces, which came from Eastern Europe.
Viking necklaces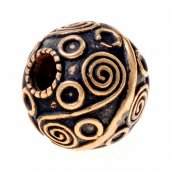 Due to the pagan burial custom that was prevalent in northern Europe in the early Middle Ages, the Vikings often gave their deceased necklaces on their way to the realm of the dead.

For this reason, necklaces with beads, along with pottery shards and iron nails, are among the most common finds of the Viking Age and are found in both richly and poorly furnished graves, whereby young women often had more and old women rather fewer necklaces with them as grave goods.

Necklaces are found in Viking burials almost exclusively in women's graves, whereas in men's graves only single beads are found, for example as a closure for a bag.

Viking women usually wore necklaces close to the neck, but they could just as well be longer and reach down to the chest. In addition, two or even three necklaces were often strung between the tortoise brooches at the same time.

In Sweden, on the island of Gotland and in the Baltic region, Vikings also frequently used chain distributors and stave chain dividers, where a whole row of chains could be attached on top of each other at once.

As a rule, the Vikings threaded their beads on thin bronze wire, as was also common in the Migration Period. The combination of beads, however, seems rather arbitrary to us today and the historical Viking necklaces seem strangely discordant to the modern observer because they do not seem to follow any comprehensible logic at all.

In addition to beads made of glass, bronze and silver, Viking necklaces often contained a pendant or several amulets and even pierced Arabic dirhems. As well, there could be placed further beads on small wire loops on the necklace.
Viking necklaces with glass beads
Vikings usually wore necklaces with rather simple beads made of single-coloured and transparent glass in the colours blue, green or violet.

In addition, single or multi-coloured beads of coloured glass or enamel were worn, which the Vikings made of opaque glass paste and which are called mosaic beads or millefiori beads.

Viking necklaces with prismatic rock crystals and carnelians are also known, which had reached the far north via the Vikings' extensive long-distance trade network from the Orient.
Viking necklaces with metal beads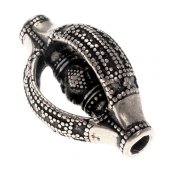 While the Vikings originally wore necklaces made of glass, in the second half of the Viking Age they also used filigree beads made of silver or even gold, which were either spherical or double-conical or tubular.

The basics of Viking necklaces with metal beads originate from the Slavic goldsmith's art, in which brooches, pendants and beads with filigree granulation decoration were designed with the simplest means.

Viking necklaces also used the finest wires of silver and tiny beads for metal beads.
The basics of Viking necklaces with metal beads originate from Slavic goldsmithing, in which brooches, pendants and beads with filigree granulation decoration were designed with the simplest means.

The base for Viking necklaces was a chased or cast mould made of sheet silver, onto which the granulated elements, such as filigree balls and thin wires, were soldered.
The solder, however, left hardly any traces perceptible to the eye, and so it seemed as if the granulations were floating above the surface of the bead.
Further necklaces in the Pera Peris assortment
We would be pleased if you liked this small overview of Viking necklaces and if you might find a beautiful Viking necklace for your outfit or as stylish necklace for everyday life in our online shop.

In addition to Viking necklaces or single beads such as bone beads, beard beads and runic beads, you can also buy a whole range of other Viking jewellery from Pera Peris, such as
For a stylish and authentic Viking outfit, you will also find exact replicas of Viking penannular brooches and disc brooches based on historical originals in our online shop.

In addition to detailed replicas of trefoil brooches and authentic tortoise brooches from the Viking Age, you can also buy great Viking bracelets and torques and find a large selection of Viking belts and various belt accessories made of bronze.

You can also buy historical camp equipment you need for a real Viking camp in our medieval shop. Therefore, we not only offer you a well-assorted selection of drinking horns and drinking horn holders, but also many other medieval items such as forged hooks and fittings or authentic Viking spring scissors.

In our blog, you can also find out more about life in the Viking Age and get some impressions of life back then.
When ordering from the Viking Reenactment Shop of Pera Peris, you will benefit from many advantages, such as
25 years of experience
Free shipping from 50 €
Delivery usually on the next working day
Several payment methods, like Paypal, credit card or bank transfer
14-day right of withdrawal
Easy returns
Sign up for our newsletter and you will always be informed in time about new products or special offers. If you require any further assistance, our customer service is always happy to help.

Simply contact our service team or use the practical call-back service.
In any case, we look forward to your enquiries.

Pera Peris - House of History - your Viking re-enactment shop.

Bring a piece of history into your home!